If you're going to Barcelona, consuming as much gelato as possible NEEDS to be top priority on your list. Lucky for you, I'm here to tell you the top 5 places to hit, in no particular order. I have my favorite flavors at each location and couldn't rank one against another. You'll have to be the judge yourself!
DelaCrem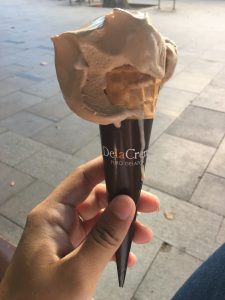 Carrer d'Enric Granados, 15, 08007
The very first gelato I had when I lived in Barcelona was Cappuccino from DelaCrem! I had had gelato in the States, but it was no where near the same. I was then a changed woman, eager to indulge in my new found love. Naturally, when I came back with Jonny a year and half later, I had to take him here. We shared a cup as we walked to Foc I Oli (best burger ever) and I let him decide what flavors to get. He went with the basics, Chocolate and Pistachio, which was delicious. You can't go wrong with any flavor at DelaCrem.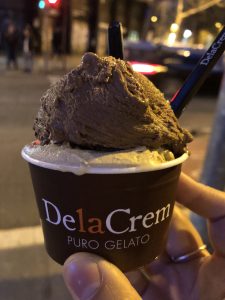 Manna Gelats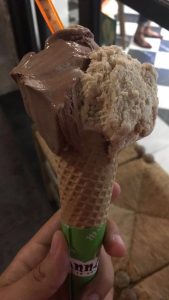 Carrer dels Banys Nous, 22
For the majority of my time abroad, Manna Gelats was my favorite gelato hot spot with two specific flavors in mind- Honey Chocolate and Scrumptious Cookies. When Jonny and I did round two, we were lucky enough to get those exact flavors. It was just as good as I remembered. This place is a staple, they even give you a chocolate drizzle on top if you ask nice enough!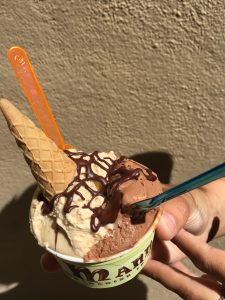 Gocce di Latte

Pla de Palau, 4, 08003
My roommates and I accidentally stumbled upon this spot during a public holiday. If you've ever been to Barcelona on a holiday, you know that EVERYTHING is closed, so this was an extra special treat. After much contemplation, I went with Salted Dark Chocolate and Chai Tea. Game. Changer. It was so good that I wrote about it in my journal to never forget it. Unfortunately for me, Chai Tea wasn't an option on my trip in 2018. I decided to top my Salted Dark Chocolate with Datil con cardamom y naranja. It was good, but if Chai Tea is an option, get that ASAP.

Oggi Gelato

Carrer Comtal, 15, 08002       
After hours of research, Oggi Gelato was a new spot I knew I wanted to try with Jonny. I was highly impressed. I got the Darkest Chocolate flavor they had and paired it with Banana. It was a ballsy move as I DESPISE fake banana flavor, but Ya'LL it was made with good-ole real B-A-N-A-N-A-S and it was a sensational combination. I wouldn't even mess with any other flavor.
Un gelato per te
 
Carrer de Sant Felip Neri, 1
You would never find this place unless you were specifically seeking it. It was down a dead end alley in the Gothic Quarter, and the only give away was the flag outside the door. It is NOT to be missed. Jonny and I knew it was the best of the whole trip at first bite. As soon as we walked in the door, we immediately made the decision to get Lemon and Mango. We were fighting over the last bites. I said I wasn't going to pick favorites, but if I HAD to pick one place, it would be this one. When we going back, Jonny??