In 2016, I lived in Barcelona for three months. My boyfriend and I made an agreement that we would go back within a 2 year period of me living there. In Spring 2018, we made that happen! Our (my) agenda was mainly focused on showing him all my favorite restaurants as well as find new restaurants to try. I spent hours upon hours upon hours researching, pinteresting, yelping, googling, asking… and finally had a dinner line up we were going to utilize. Some were better than I remember, some were worth hitting twice, and some were a waste of a meal. To save you the hours of research, here is where you need to eat dinner in Barcelona! (For the best places to eat gelato, check out my other blog post here
Ciudad Condal
Rambla de Catalunya, 18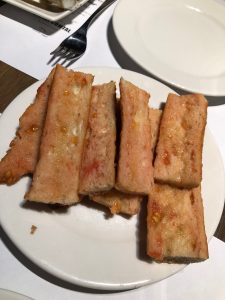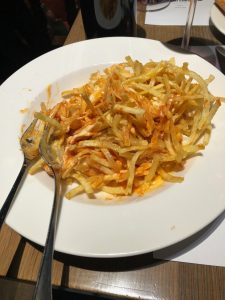 Jonny and I landed in Barcelona on our first day around 3 pm. We knew that we wanted our first meal to be traditional Catalan tapas, and what better place to go to than Ciudad Condal. Little fact, Ciudad Condal and Cerverceria Catalonia are sister resturants with the same menu. Our Air Bnb happened to be equal distances from both, but for whatever reason we decided upon Ciudad Condal. FAIR WARNING: Both restaurants always have ridiculous wait times, but it's worth it. As soon as we were seated, I ordered just about every tapa… to start we had Pan Con Tomate (Tomato Toast, must have), Razor Clams (for Jonny, ew), and Cabreaos (Shoe string potatoes mixed with a fried egg, ICONIC).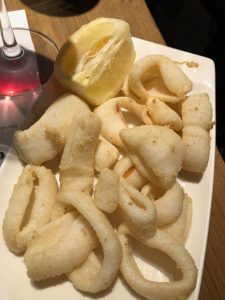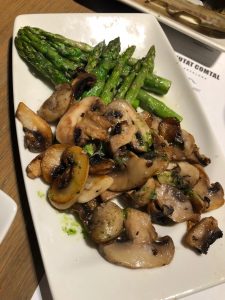 Next up were Malaguena Style Squid (Essentially calamari), an Iberian Jamon Croissant, and Mushrooms and Asparagus for some vegetable nutrients. The squid was something you need to try at least once, but definitely not something to order every time. I was intrigued by the croissant from my hours of research, and am honestly upset I didn't spend more of my abroad days eating these bad boys. The vegetables were just to add some color to our table. Our last tapa before dessert was the Spanish omelette. I find this tapa to be extremely underrated. It's really just potatoes layered in an egg omelette, but you have to do it for the culture.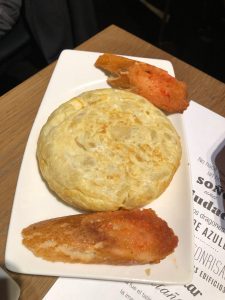 Last, but certainly not least, were the desserts! The first picture is Crispy Camenbert and let me tell you folks, THIS IS NOT TO BE MISSED. I'm not even sure what it is, but it's some type of warm, melty cheese with a crunchy coating (could be nuts), and jam on top. I could eat 20 of these. Get it, get it, get it. The middle picture was a chocolate mouse cake of sorts, followed by delicious Churros con Chocolate (which I really just ordered for the churros…). We weren't even going to get dessert until we saw the table next to us order basically everything off the menu. Although I don't remember the exact names, you won't go wrong with any decision. Just promise me you will get SOMETHING for dessert.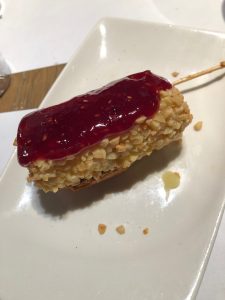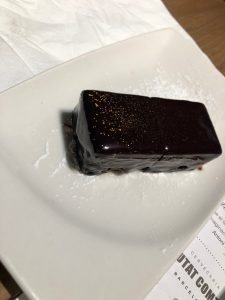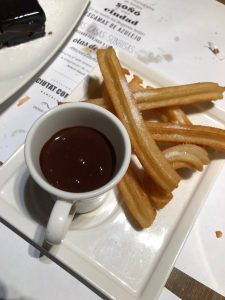 Patron
Travessera de Gràcia, 44-46
Besides tapas, Barcelona is well-known for their paella. Paella is traditionally composed of rice and seafood, but their seafood just isn't a taste I fancy (I can't get over the heads on the shrimp). Fortunately for me, I found a restaurant dishing up a Catalan Sausage and Calamari Paella that gets me that rice dish fix. Naturally, this is where we wined and dined our second night in the city.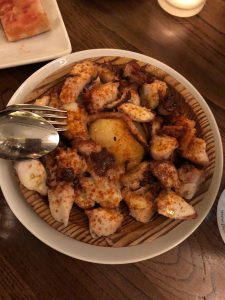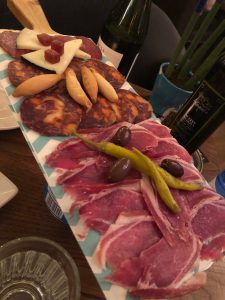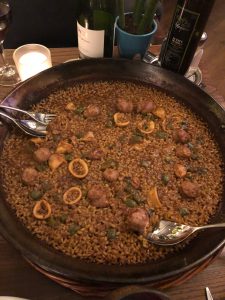 We started with a dish of potatoes topped with octopus. I prefer El Nacional's version of this better, which I will touch on later in this post. Next came an assortment of Iberian Jamon, soon followed by our paella. This was TOO MUCH FOOD PEOPLE. We were both stuffed and I got the meat sweats… Don't do this to yourself. I will say that Patron is a must if you seek to indulge in a Barcelona classic while avoiding the shrimp heads.
Robata Sushi
Carrer d'Enric Granados, 55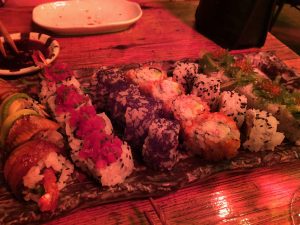 And by the third day, we needed a little break from Catalan food. Monster Sushi was my favorite sushi restaurant, located in the Gracia neighborhood, so I was thrilled to find they had a sister restaurant much closer to my Air Bnb. The entire restaurant was filled on reservations, but we got lucky in being able to sit outside by a space heater. We started with delicious edamame and fried gyoza. Our entree was Jon's choice of three sashimi pieces (which he so graciously shared one with me!) and the 4×6 variety platter of sushi rolls. Jonny and I usually go overboard when ordering sushi, but this was the perfect amount. It also was the perfect place to switch things up from Spanish food. I highly recommend Robata, try to plan ahead with a reservation!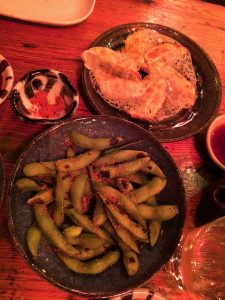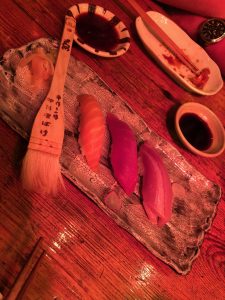 El Nacional
Passeig de Gràcia, 24 Bis
On our fourth day, I happened to have started to get sick so we opted for someplace close. El Nacional is one of those tourist hyped up restaurants. It's off of a main road at the end of an alley, so be on the lookout or you might miss it. It is comprised of 4-5 restaurants I believe and is ALWAYS packed. I don't necessarily think it's the absolutely best food, and it is also rather expensive, but it does provide an experience. The two times I've eaten here, I'm gotten the same thing, which is the Wagyu burger. It is so melt in your mouth good. The Animal Science major part of me knows that this type of cow/meat is excessive in it's marbling, which allows for that melt in your mouth goodness. Jonny got the lamb, which was also very good. As you can see in the pictures, they really don't give you much with your meal. We ordered a side of patatas bravas. The two entrees came exactly as pictured. Not really worth the pretty penny you have to pay if you ask me.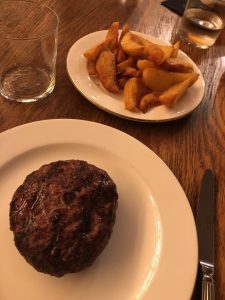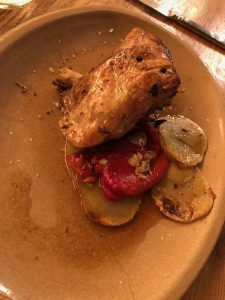 Foc I Oli
Carrer d'Aribau, 91

And on the fifth day, in true American fashion, we had burgers! But these burgers are absolutely AMAZING. I would even dare to say the second best burger I've ever had. It's just a small little restaurant, further away from the touristy areas. I've only ever gotten this para llevar as the seating options are not desirable, but I love take out so it's fine with me! I got the El Claudio burger and Jonny got the El Bee… and wished he got the El Claudio. We also got an order of fries that we shared. Jonny begged for us to go back, but we had other restaurants to try! I know this will be first on his list when we inevitably visit Barça again.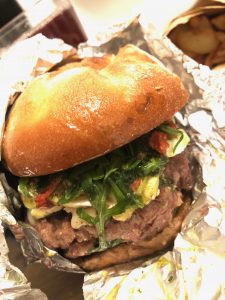 Gusto
Carrer del Rosselló, 108
By Thursday, I had gotten so sick that we had to see the doctor, so we kept dinner simple. We even took a taxi there AND BACK, which was unheard of for us as we normally walk EVERYWHERE on vacation. (Easiest way to burn off extra calories we are eating!) I took Jonny to an Italian restaurant my parents had actually found. It's known as the Beyonce restaurant because she once ate here lol. Her picture is even on the wall! We had trouble reading the menu as it was SO LONG and the daily specials were only in Spanish. We started with the bruschetta which is absolutely amazing and fresh. We then shared a pizza, which I don't think I could figure out what it was called if I looked at the menu so I'm not going to pretend to. We just went by the words we were familiar with to pick it. It was delicious as well and you can't go wrong with anything you end up ordering (even if you don't know what's on it lol).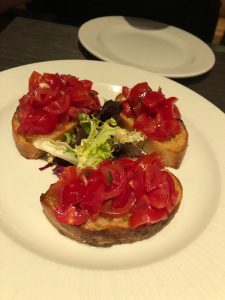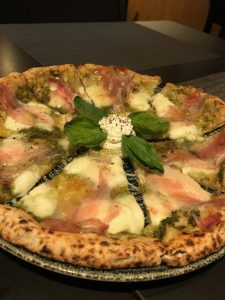 Vinitus
Carrer del Consell de Cent, 333
My Aunt had actually visited Barcelona not to long before us, and by chance had stayed at a hotel around the corner from our Air BNB. Vinitus was recommended to her as a local joint, and then she passed the recommendation along. It is a traditional tapas restaurant, which was the perfect way to end our week in Catalunya. It was packed, per usual, but we didn't mind the 30 minute wait. We ordered numerous tapas, most of which were repeats from our first restaurant, so I just want to tap on the different tapas we tried (get it). First off were the Patatas Bravas! You can't go to Barcelona without eating these at least once! Everyone has a different take on them, but these were pretty good. Next were the vegetables with Romesco sauce, another Catalan must. These were okay, but definitely not the best. The vegetables were mushy and drenched in oil. You're better off trying this out someplace else. Lastly were fried artichokes which STOLE THE SHOW. I had never had such a dish, and it was more than I could have ever hoped for. It makes it easy for you to eat your vegetables.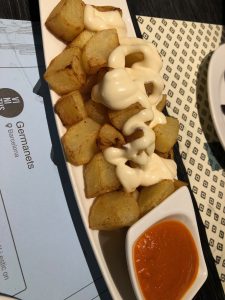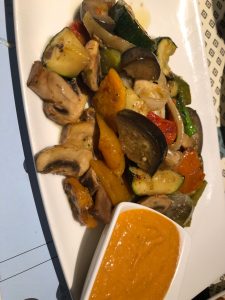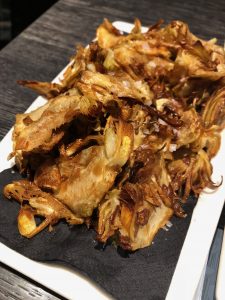 What are your favorite dinner spots in Barcelona? Let me know in the comments so I can try them out the next time I'm in town!