On Sunday, April 19th, 2020…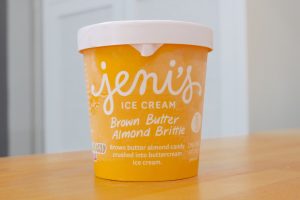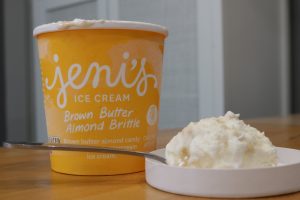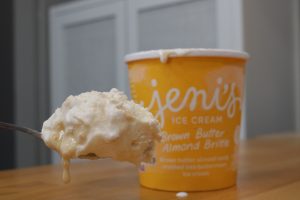 Jeni's Brown Butter Almond Brittle
Brown butter almond candy crushed into buttercream ice cream
I couldn't help myself but to eat half the carton right off the bat. This truly left me wanting to come back for more after each spoonful of blissful gluttony.
My Interpretation: 
The ice cream itself didn't give me "buttercream" vibes, it very much so felt more like an almond extract ice cream base (which I loved)
Dotted pleasantly throughout with the tiniest toffee bits. I would be curious to see a rendition or play on this with bigger toffee bites!
My Ratings:
Trueness to name: 8/10 – pretty spot on, minus the buttercream
Willingness to buy again: 10/10 – would also

get thi

s in the Jeni's shop without hesitation 
Chunkiness: N/A – it has "bits" but wouldn't consider this a chunky ice cream
Creaminess/Consistency: 10/10 – the pictures speak a thousand words. It's as creamy as it looks!
Overall: 8.5/10 – very very solid ice cream, ranking high for my tastebuds!
I would give this a go if you're a fan of almond extract flavoring!
On Sunday, April 26th, 2020…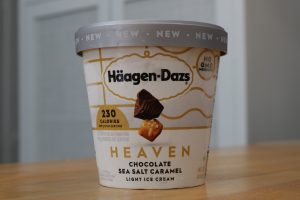 Haagen-Dazs HEAVEN Chocolate Sea Salt Caramel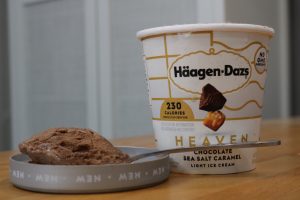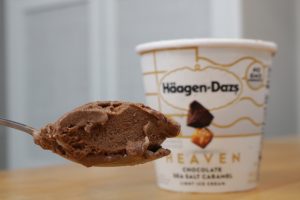 This ice cream needs to sit out for a few minutes before enjoying. It's their "healthy" take on a classic ice cream combo!
My Interpretation: 
I was impressed by the chocolate flavor. It reminded me of every chocolate ice cream I had growing up as a child, so it won nostalgia points.
The caramel was hard to come by, and by hard to come by I mean non-existent. They really dropped the ball on that.
My Ratings:
Trueness to name: 2/10 – Basically was just a chocolate ice cream
Willingness to buy again: 2/10 – If I was looking for a "light" version of chocolate ice cream, this would be my go to
Chunkiness: N/A
Creaminess/Consistency: 7/10 – needs to sit out, which is just good for me to practice my patience!
Overall: 6/10 – It's not bad, it just doesn't live up to it's name!
If you just want a plan light version of chocolate ice cream, this is a good option!
On Sunday, May 3rd, 2020…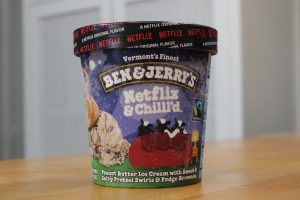 Ben & Jerry's Netflix & Chilll'd
Peanut Butter Ice Cream with Sweet & Salty Pretzel Swirls & Fudge Brownie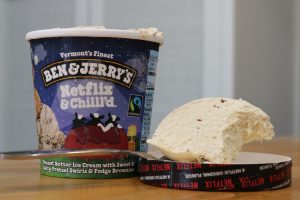 After countless recommendations, I had to see for myself if this was worth the hype!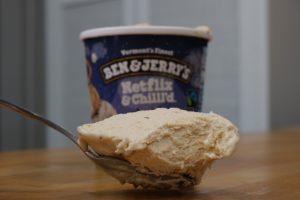 My Interpretation: 
My immediate thought was that this ice cream had a weird, grainy consistency.
This lacked flavor. The peanut butter was so faint, there were 3 lackluster brownies throughout the whole pint, and the pretzel swirl was more so just random pockets of salt throughout.
My Ratings:
Trueness to name: 0/10 – I feel like Ben & Jerry's was trying to be "fun and quirky" but this was just a flop.
Willingness to buy again: 0/10 – I would much rather run the gamble of trying a brand new ice cream that I may hate than purchase this one again
Chunkiness: 2/10 – three brownies in the whole pint… disappointing is an understatement
Creaminess/Consistency: 5/10 – it's grainy. If anything this is a high rating. It gets points for being able to eat it straight from the freezer!

Overall:

4/10 – These are mostly pity points because everyone else seems to love it so much. It just doesn't tick any boxes for me.
If you love disappointment, this is for you.